El Buenos Aires Rojo Sangre continúa y yo aproveché y me vi las siguientes películas entre el viernes y el sábado...
El viernes vi primero Baby Shower, película chilena, cuya trama comienza relativamente interesante (una joven embarazadísima que se junta con sus mejores amigas a celebrar para luego revelarles que sabe una de ellas es la amante de su marido y planea irse con él a las Bahamas, hasta que de repente comienzan a ser atacadas por alguien de afuera) para terminar en excusas (y poco fuertes) que sirvan para mostrar escenas de gore aunque éstas sí muy bien creadas. Si se quiere ver gente sufrir de dolor, puede ser una opción. No esperen mucho más.
Ése mismo día vi una película tan pero tan mala... El último fin de semana trata sobre (lo advierten al principio de la película) el último fin de semana probablemente de la Tierra. Un grupo de amigas planea hacer un finde de chicas, aunque suman a un tipo que una de sus amigas, la más calentona, invita. Juro me indignó verla, porque todo carece de sentido alguno. El final es muy malo. Yo entiendo sean películas de bajísimo presupuesto, y rodadas en pocos días, pero el mayor problema radica en el guión, así que no son excusas.
El día siguiente lo empecé con Attack the Block, una película británica de los productores de Shaun of the dead y Scott Pilgrim... que maneja ese humor británico al cual suma unos aliens peludos y totalmente negros, de quienes sólo se pueden distinguir sus dientes. Una especie de Super 8 situada en un barrio de Londres, donde este block que va a ser atacado es albergado más que nada por una pandilla de adolescentes rebeldes y drogados. Un film que avanza a nivel vertiginoso, y que cumple con todas las normas del género. Entretenidísima propuesta. Hasta tenemos a Nick Frost en el elenco.
Luego vi La casa por la ventana. No es una gran película y se nota mucho también el poco presupuesto con el que hizo. De hecho hasta hay algo raro con el doblaje de un personaje, que se nota no coincide nada con los movimientos de sus labios, y da la sensación cada vez que este (por suerte menor) personaje aparece de estar viendo una película por canal 9 un domingo a la tarde. Pero a la vez ES una pequeña gran película. No sé cómo explicarlo. La presentación (de la película y del protagonista) ya es algo genial: es el ritual en el que su protagonista, Julio Saez Jr., se somete a escondidas de su padre y no consiste en más que tomar su cassette de Jimi Hendrix que esconde entre unos libros, irse al baño con el walkman y los auriculares e "interpretar" en silencio la música frente al espejo.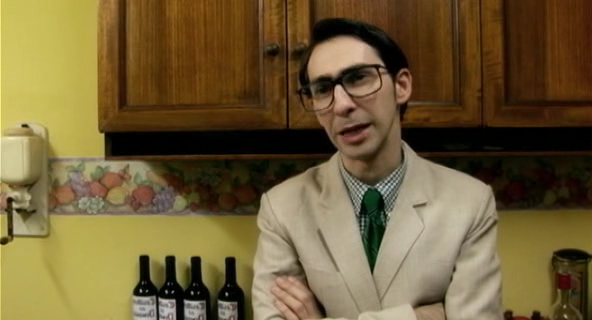 La película está llena de personajes que comparten características que siempre me atraen en el cine: son losers, infantiles, y entrañables. El protagonista es un muchacho recién recibido de arquitecto, más que nada por mandato de su padre estricto, con un reprimido anhelo de hacer música. Es un nerd y no tiene demasiado vida social, por lo que su padre le organiza una fiesta de fin de año para él en su casa, que por supuesto no sale mucho como lo tenían planeado. Llena de situaciones hilarantes y absurdas, la película funciona como un respiro. Es divertida y deja una linda sensación al terminar. A mí me gustó muchísimo más allá de algunas falencias.
Y terminé mi día con Red, White & Blue. Durante gran parte de la película me costó comprender por qué aparecía en este festival. No es que no me gustara, es cierto empieza lento, pero las imágenes son atractivas, los personajes apenas presentados dan ganas de seguir conociendo. Pero todo no era más que un drama. Hasta que la película "empieza". Resumiendo, es una historia de venganza. O mejor dicho, tres historias de venganza que se unen como una cadena. Es difícil contar algo del argumento (sobretodo de la probablemente parte más interesante de éste) sin dar algún spoiler. Protagonizada por un gran Noah Taylor (se ha convertido en un actor que siempre me gusta ver en pantalla), la película empieza contando la historia de Erica. Sabemos que no trabaja, sale todas las noches a acostarse con un tipo diferente sin intención alguna de involucrarse, entabla cierta relación con un niño al que observa siempre jugar en el parque y, cuando le dicen que deberá pagar la renta para seguir viviendo allí (donde antes sólo aportaba haciendo la limpieza pero ahora a la dueña no le es suficiente), y que entabla cierta amistad con Nate, un extraño que la ayuda a conseguir un trabajo, un ex veterano, con ciertos problemas psicológicos. Pero entre tantas noches de sexo de Erica, conoce a Franki, que tiene una banda, una madre con una enfermedad terminal y separado recientemente de su novia. Y éste encuentro es el que genera lo que sigue en la historia, que no voy a revelar pero que puedo asegurar es muy interesante. Después de un rato, la película se transforma.
Bueno, en estos días veré alguna más aunque ya no muchas y les contaré qué me han parecido. Creo que éste es mi festival de cine preferido.